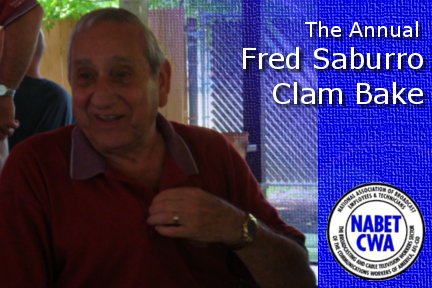 Another great time ... already looking forward to the next Clam Bake ... September 6th, 2014
NABET-CWA CLASS ON DEMAND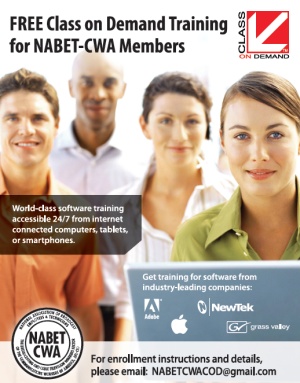 NABET-CWA is pleased to announce the launch of its new training partnership with Class on Demand.

Members may sign up for classes by emailing: NABETCWACOD@gmail.com. Kate Murray is the volunteer coordinator and contact.
NABET-CWA has partnered with Lynda.com to

provide free training for our members.

Lynda is an online training center that can provide instruction in over 1000 programs. The training is free to members in good standing. Click on the Yellow graphic below to go to the lynda.com web site. Scroll down to the bottom to find a list of courses available.
We also have an offer, for anyone that wants to get their own license, and have total access to the site for an entire year, you can get 20% off their normal license rate:
Users must proactively choose their own training dates; don't miss this opportunity or waste Regions 2/6 seats! Unused seats will be offered to members outside Regions 2/6! Serious repeat users are welcome back anytime! Users may sign up for any session at any time.






The April 20 → May 17th session has filled and closed. 13 seats are available for May 18 → June 14th.

2014 Lynda.com Training Schedule for Regions 2/6
| | |
| --- | --- |
| Dec 29 → Jan 25 Filled! | Jul 13 → Aug 9 |
| Jan 26 → Feb22 Filled! | Aug 10 → Sep 6 |
| Feb 23 → Mar 22 Filled! | Sep 7 → Oct 4 |
| Mar 23 → Apr 19 Filled! | Oct 5 → Nov 1 |
| Apr 20 → May 17 Filled! | Nov 2 → Nov 29 |
| May 18 → Jun 14 | Nov 30 → Dec 27 |
| Jun 15 → Jul 12 | |
Completion certificates are offered for all courses. Encourage your members to polish and expand their professional skills. Use this valuable educational program as a bargaining tool.









START SIGNING UP NOW !!! First come, first served! Submit alternative dates. Send the following information to jkolendo@sbcglobal.net. My union cell phone is 440-915-4391. Information needed: 1. Your Local's Number, 2. User's name, 3. User's exact e-mail address, and 4. Desired training dates from the above schedule. Serious repeat users are welcome back any time! Active registered members may e-mail me directly.

Sincerely, Jim Kolendo, NABET-CWA Regions 2 & 6 Administrator
Sample discounts and offers available
to all Union Members
on the Union Plus Web Site:
Additional entertainment discounts, including but not limited to: Theme Parks, Movie Rentals, Movie Theatre discounts, Ski Lift Tickets, and more.
Dollar and Cents Sense for New College Students
Continue on to the UNION PLUS page for a list of offers available to you in addition to those listed above. Mortgage information, travel, insurance, computers, education, etc etc ...